TEESSHIPS has, unfortunately, been lying derelict and abandoned for almost three years!
However, salvage is now underway and it is hoped we may soon be back in full service.
We set sail with only a small amount of cargo on board - the previous substantial manifest now needs to be completely restowed!

Refloated 12 August 2013
TEESSHIPS

[covering the North-East coast ports of England - and elsewhere!]
welcomes all ship enthusiasts
**********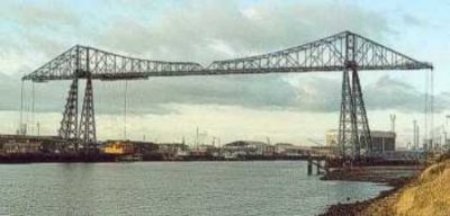 The famous Teesside landmark, the Transporter Bridge (built 1911) across the River Tees between Middlesbrough and Port Clarence.
Sea Fever by John Masefield
I MUST down to the seas again, to the lonely sea and the sky,
And all I ask is a tall ship and a star to steer her by,
And the wheel's kick and the wind's song and the white sail's shaking,
And a grey mist on the sea's face and a grey dawn breaking.

I must down to the seas again, for the call of the running tide
Is a wild call and a clear call that may not be denied;
And all I ask is a windy day with the white clouds flying,
And the flung spray and the blown spume, and the sea-gulls crying.

I must down to the seas again to the vagrant gypsy life.
To the gull's way and the whale's way where the wind's like a whetted knife;
And all I ask is a merry yarn from a laughing fellow-rover,
And quiet sleep and a sweet dream when the long trick's over.
**********
Currently available on this TEESSHIPS website:

(added 25.09.10) BALTIC CRUISE 2010
26.09.10: Note: Slide 310 now identified, through Tugtalk, as: CAPTAIN HOOK (5158981) 120gt, completed Gothenburg 1956 (ex Swedjeholm - 01, ex. Karl-Manfred-94, ex. Ran-82, ex. Illern-79, ex. Thetis-62) see: http://www.tugboatlars.se/Karlmanfred.htm [12.8.13: only recently deleted from Equasis as SWEDJEHOLM]
This is a large Powerpoint presentation (over 300 slides), may take a while to load, but you can even save it direct to your own computer if you so wish (assuming everything works as it should!). So, I hope you will enjoy ....

(revised 17.04.10) VLISSINGEN (FLUSHING) 2009
Please send any items concerning TEESSHIPS to: ron.mapplebeck1@virgin.net

++++++++++

PUBLIC ANNOUNCEMENT 15.04.08
SHIPBUILDING ON THE RIVER TEES
An internet archive of ships built on the Tees and at Hartlepool. Have a look on TEES-BUILT
**********
Added 12.8.13:
NORTH EAST MARITIME FORUM
my local Tees photos, and those from Humberside or the Tyne, etc., since May 2012 have been uploaded to this forum.
See: http://www.northeastmaritime.co.uk/index.php
**********
Of local interest:
Tall ships Hartlepool 2010:
http://news.bbc.co.uk/local/tees/hi/people_and_places/history/newsid_8148000/8148309.stm

Have you had a parmo yet? (non-shipping!!!): http://www.bbc.co.uk/tees/content/articles/2005/09/09/parmo_feature.shtml
22.07.09: latest news item: http://news.bbc.co.uk/1/hi/england/tees/8163083.stm
**********

Further cargo will be taken AS INDUCEMENT OFFERS
- AND IF SPACE ALLOWS!!
..... and, as and when I get a round tuit!!!!
**********
LOOK ROUND TEESSHIPS, PLEASE!
THERE'S LOTS TO SEE!! (Well, there should be eventually!!!!)
**********
Many thanks to all regular visitors to TEESSHIPS
**********
TEESSHIPS
A word (or two) about photos on my TEESSHIPS website. To maximise the amount of material I can show on the site, within the confines of space I deliberately optimise, i.e. condense, the size of the photos in uploading them to show on my site. To me, these are OK for us all to look at on our PCs, and to save in our Photo Library and look at later. What they are not good for is being printed off - they will come out very small!; or for more "professional" use (with my permission, of course!). If anyone ever needs/wants a larger dimension scan please just ask me. (Email address as shown below.) I will try to oblige (providing I can still find the original print!!!!!)
23.11.08 This no longer applies for most images added during 2008 and onwards.
**********
COPYRIGHT: You are welcome to download for your own interest, or to feature on your own website (with acknowledgement, please), any of my own photographs shown in TEESSHIPS, providing they are not used for commercial gain. I assume most other webmasters operate on a similar basis and I include material from other sites when such seems appropriate. However, if anyone is unhappy about such use of their original material please let me know so that I can rectify the situation to their satisfaction.
**********
All information included in my site is given in good faith, but the accuracy of information received from other sources cannot be guaranteed by myself. I will always be happy to amend inaccurate or misleading data.
**********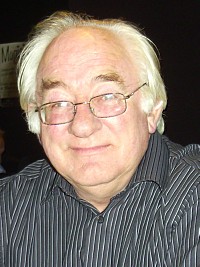 Site developed by Ron Mapplebeck
Please send any items concerning TEESSHIPS to: ron.mapplebeck1@virgin.net
Member of: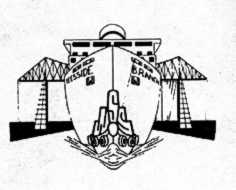 TEESSIDE SHIP SOCIETY/
TEESSIDE BRANCH OF THE WORLD SHIP SOCIETY (joined November 1964)
(Society formed 1956, WSS Branch from 1971)
Life Member (through subscription) of: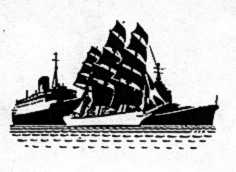 THE WORLD SHIP SOCIETY (joined 1967)
Comments about this site, constructive preferred, but also any errors to Ron Mapplebeck.
Contact me at: ron.mapplebeck1@virgin.net
TEESSHIPS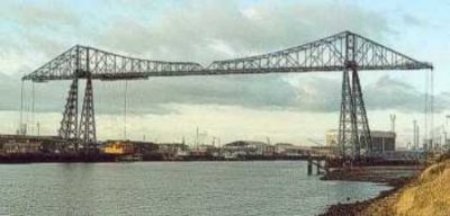 Keel laid: 18 January 2000;
maiden voyage: 3 February 2000.
(inactive November 2010,
but refloated August 2013)
13 YEARS' YOUNG
AND STILL GOING (JUST!)